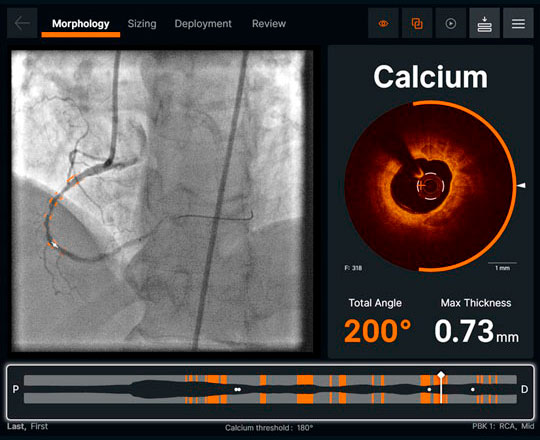 A revolution is coming in the field of image-guided percutaneous coronary intervention, and I think it will mark a new way of working. The use of artificial intelligence models that have been invading all aspects of life in recent years has also reached optical coherence tomography (OCT) consoles via the new software Ultreon 1.0 (Abbott, USA), which has just received the CE mark in Europe in April of this year.
The new Utreon 1.0 software combines OCT with the power of automation driven by artificial intelligence. This improves visualization and allows automation of many measurements that, when done manually, are very time-consuming, to provide precise information and simplify treatment decision-making.
The Ultreon 1.0 software can automatically detect the amount of calcium in the coronary artery and measure the diameter of the vessel to be treated using automatic detection of the external elastic lamina (EEL). This helps improve the accuracy of decision-making during the process of coronary stent implantation in percutaneous coronary intervention.
It also offers an intuitive, simplified workflow that reduces the learning curve and facilitates image interpretation, reducing interobserver variability and increasing diagnostic accuracy and treatment application.
This is the first software of its class to use artificial intelligence and is a great example of technology designed to optimize decision-making, as it reduces uncertainty during the intervention and has a greater accuracy, improving results and patient care.
Keywords: Optical coherence tomography, software, artificial intelligence, percutaneous coronary intervention.