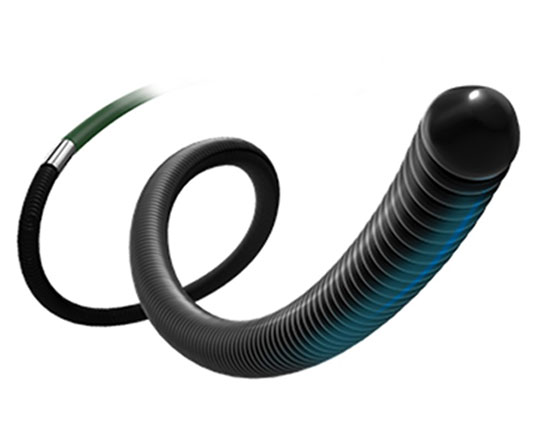 For any engineer involved in designing interventional cardiology devices, the goal is to create devices that help solve problems in more complex cases. In the field of coronary intervention, these complex cases may include bifurcations and chronic total occlusion: such lesions are more difficult to treat, mainly because it is more difficult to maintain a good result in the medium- to long-term than with other types of lesion.
Teleflex Medical (USA) has recently launched several guidewires for complex angioplasty. The Bandit guidewire has a low tip load of 0.8 g. It has a long, tapered stainless steel core surrounded by 16 cm of coil; the most distal 10 cm are radiopaque. The distal 17 cm of the guidewire has a polymer jacket. The tip is very slim, measuring 0.008''. It is available in 200 and 300 cm working lengths.
This guidewire's lubricity makes it useful for crossing tortuous micro vessels or highly-calcified, sinuous critical lesions.
Normally, Bandit is pre-formed with a slight curve of 30°. It is possible to pre-form a second curve, although I am not a fan of that approach. It is an atraumatic guidewire, similar to the Fielder family (Asahi Intecc, Japan). It could be described as somewhere between the Fielder XT-R (which has 0.6 g tip strength) and the Fielder XT-A (1 g). It is also useful for subintimal advancement, as it can be used with a very small knuckle.
Keywords: Coronary angioplasty wire, complex percutaneous coronary intervention, microcatheters, chronic total occlusion.