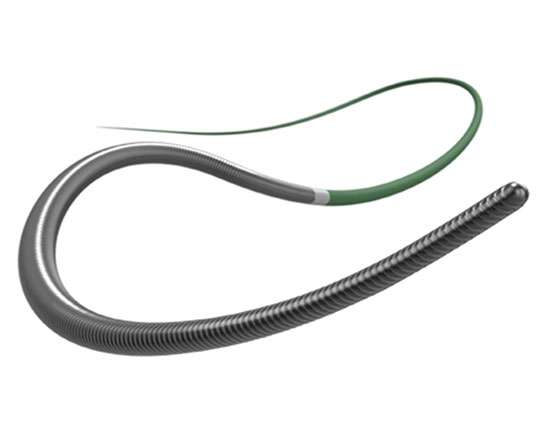 The Raider guidewire is a new coronary angioplasty guidewire for chronic total occlusion, brought to us by Teleflex Medical (USA). Given the fantastic technological advances in recent years, it would seem that continued innovation in guidewire design would be difficult, though not impossible.
This guidewire has a tapered stainless steel core surrounded by a 25 cm coil welded to the core at its proximal end. The distal 30 cm of the guidewire has a polymer coating, the tip is non-tapered, and the tip load is 4 g. It is available in 200 and 300 cm total length.
It is categorized as a medium-support guidewire. Its high flexibility does not limit its use as an added support to facilitate advancing a balloon or stent to more difficult locations.
The design, with a non-tapered tip, means a wider curve of attack can be pre-formed to enable access to more angulated locations. This feature also allows a larger knuckle-type curve to be created if the procedure requires it.
Its penetration power is excellent for increasing the strength of the guidewires used in total coronary occlusions. It is highly suitable for the stick-and-swap technique, in dissection procedures and in Stingray balloon re-entry.
What could it be compared to? A Pitol 200 (Abbott Vascular, USA). What does it add? Superior tactile control. 
Keywords: Coronary angioplasty wire, complex percutaneous coronary intervention, microcatheters, chronic total occlusion.