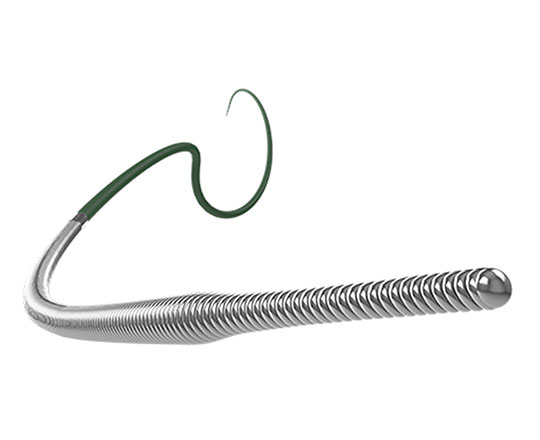 The Warrior guidewire (Teleflex, USA) belongs to the group of high–penetration-power guidewires with a tip load of 14 g. Often, the interventional cardiologist must resort to using peripheral vascular interventional guidewires of 20 g to cross very hard coronary lesions. The Warrior has a long high-support segment designed to facilitate access with long stents (which can be rather inflexible) to difficult locations. It is a slim guidewire with a tapered tip measuring 0.009'' and micro curves of 2 to 3 mm can be made at its tip (it is not pre-formed). The core is made of stainless steel and the most distal 20 cm is surrounded by coil. This coil has a diameter of 0.014'' at the most proximal part and 0.009'' at the most distal part, which provides great stability and capacity for torque response. It has a hydrophilic coating and is available in lengths of 200 and 300 cm.
It is exclusively a penetration guidewire and is used to gain access to highly-calcified proximal or distal capsules and carry out re-entry with R-CART or stick-and-go techniques when a Stingray balloon is used.
One aspect of great practical interest is the following: Teleflex has performed studies on the interaction between tip load and penetration power of their guidewires with different microcatheters, showing that the combination of the Turnpike microcatheter with the Warrior guidewire gives a penetration power of 33.2 g. This means you can avoid resorting to guidewires designed for other vascular territories.
If we had to compare this guidewire to other similar guidewires, we could compare it to the Confianza Pro 12 g (Asahi Intecc, Japan) or the Hornet 14 (Boston Scientific, USA).
Keywords: Coronary angioplasty wire, complex percutaneous coronary intervention, microcatheters, chronic total occlusion.