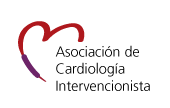 The Interventional Cardiology Association at the Spanish Society of Cardiology (ACI-SEC) is a scientific section belonging to the Spanish Society of Cardiology, formed by members dedicated to the diagnosis and treatment of cardiovascular disease using techniques of endovascular approach.
The mission of the ACI-SEC is to promote scientific and educational activity related to the diagnosis and transcatheter treatment of cardiovascular disease to achieve the best results applicable to the cardiovascular health of the population.
REC: Interventional Cardiology is the official publication of ACI-SEC, and its objective is to serve as a vehicle for education and research in interventional cardiology.