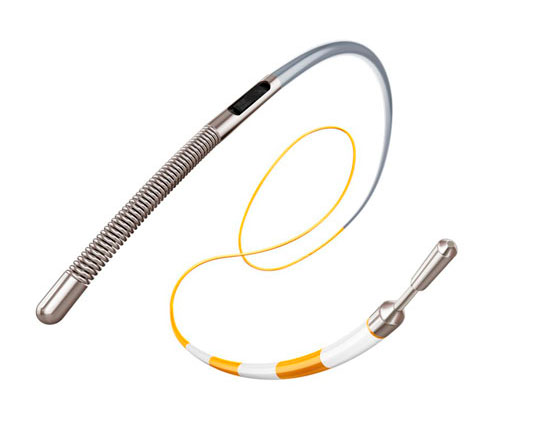 The OmniWire pressure guide wire (Philips, Netherlands) is the first solid-core pressure guide wire to appear on the market. Normally, pressure guide wires are produced with a hypotube that houses the fibers and leads connected to the intracoronary pressure sensor. This design means the guide wire requires a more delicate handling and is less durable during the procedure.
The OmniWire guide wire has a robust design that is completely new from top to bottom. The composition of its materials is very complex, and a lot has been invested in its industrial design.
From distal to proximal it has 4 sections. The most distal section has a molded band of stainless steel with a rounded platinum-alloy tip. This radiopaque tip is 3 cm long and weighs 0.53 g; it is, therefore, a soft, atraumatic guide wire. The core is made of Nitinol, a very elastic alloy, with high durability and shape memory. Outside, covering the Nitinol core, it has a flexible length polymer coating (which does not include the coil tip). Proximal to these 3 cm, it contains the integrated pressure sensor. The remaining length of the guide wire is integrated in the solid proximal core, made of a cobalt alloy that guarantees torque, pushability, and resistance to torsion.
One of the advantages of this device is the length of its hydrophilic coating, over the distal 39 cm of the guide wire, which ensures navigability in more troublesome areas. The remaining length has a hydrophobic coating (PTFE) from 146 cm up to the most proximal part of the guide wire.
I think it will be a significant improvement in guide wire usage.
Keywords: Pressure guide wire, coronary circulation.