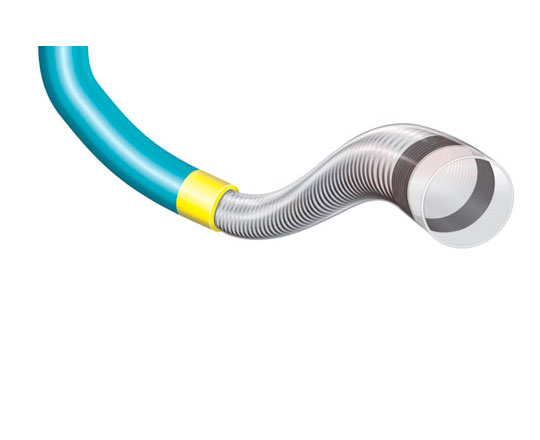 The basic characteristics of a guide catheter extension are navigability, pushability, and the smoothness with which devices can be passed through it.
One of the more interesting innovations in the catalogue of guide catheter extensions is that of the LiquID device (Seigla Medical, USA). Most 6-French extensions have an inner diameter of 0.056'', while this catheter has an effective inner diameter of 0.061''. Other available 7-Frech extensions have an inner diameter of 0.062'' while that of the 7-French LiquID is 0.071''. These measurements give an idea of the advantages when it comes to working with finer catheters that allow release of large-diameter stents. This can only be achieved with a reduction in the catheter wall thickness, which does not lose its properties thanks to the redesign of the transition zone between the pushing rod and the catheter itself, where the transition is protected by a polymer.
The hydrophilic-coated catheter is 15 cm long, unlike the usual 25 cm, improving navigability in tortuous areas. An interesting feature is that the whole catheter is radiopaque, so the tip does not need any added radiopaque markers.
The catheter is made of a very dense coil that has more volume per millimeter of length, conferring greater resistance to torsion, greater flexibility, and higher radial force. In addition, it has a rounded, atraumatic tip, which guarantees its adaptation to coronary lesions avoids iatrogenic coronary dissection.
Keywords: Guide catheter extension.