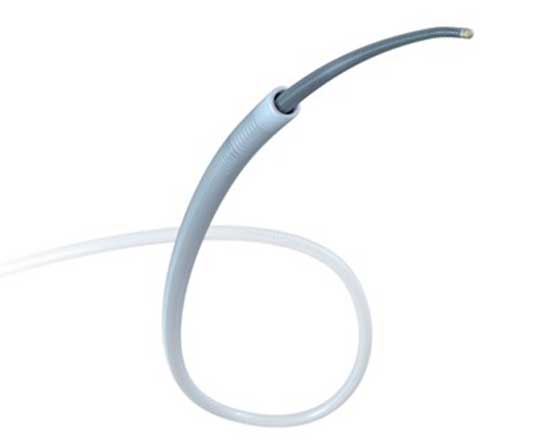 New to the market is the Hi-Torque Infiltrac guide wire (Abbott, United States), a new angioplasty guide wire with high penetration power for the treatment of chronic occlusions.
It is a tapered (0.009'') guide wire made of hydrophilic-coated Durasteel stainless steel, providing better lubricity and facilitating movement within the microcatheter. The distal 3 cm are radio-opaque, and the tip does not have a hydrophilic-coating to offer better control and tactile feedback.
The Hi-Torque Infiltrac guide wire's special tip technology has great penetration power thanks to its unique microtexture design, which provides greater feedback and safety during procedures. Another key characteristic is the guide wire's pre-formed 1-mm Micro-J tip with 25° angulation, which provides steerability and facilitates access to the occlusion without causing prolapse.
The guide wire is available in two tip loads and penetration powers to facilitate access to all types of occlusion: Hi-Torque Infiltrac, at 11 g and 167 kg/in2, and Hi-Torque Infiltrac Plus, at 14 g and 224 kg/in².
Given its design, it looks to be a candidate for antegrade wire escalation in cases with a proximal capsule resistant to penetration.
Keywords: percutaneous coronary intervention, coronary guidewire, coronary chronic total occlusion.