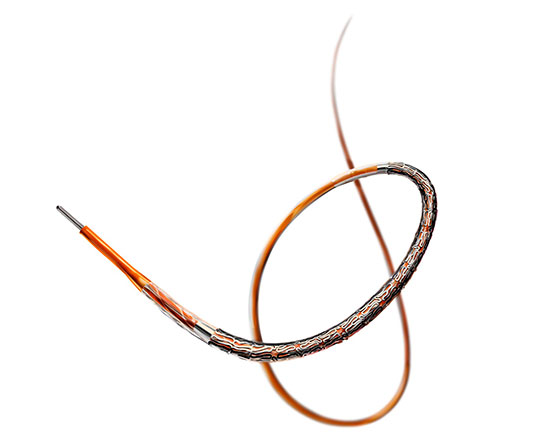 With the aim of promoting the fastest and most physiological vascular repair possible, the Evermine stent (Meril Life Sciences, India) has been brought to market, described as an ultrafine stent, measuring 50 micrometers. It is surprising to see how the engineers' design to obtain the best hemodynamics can be translated to industrial production; I think that we are close to the limits of technological evolution in the field of coronary stents.
The Evermine stent, manufactured from an L605 cobalt-chromium alloy, has a variable strut width as well as a variable crown design to ensure an in vitro radial strength of 1.1 bar. Its coating contains two types of polymers, PLLA and PLGA, which release everolimus at a dose of 1.25 micrograms/mm2. The total thickness of the coating is 2 microns.
This stent can also be considered a hybrid stent, as it has an open-cell design in its middle area, which facilitates access to the lateral branches, and closed cells at the ends to maintain adequate scaffolding and improve its adaptability to the curves of the arteries.
Some very promising preliminary results are already available, from more than 500 patients in 3 studies with follow-up of 1 year: the Evermine 50 EES-1 Study, Evermine 50 EES-KLES Study and Evermine 50 EES-BGM Study.1 It has shown a thrombosis rate of 0% at 6 months and 1 year and a major adverse cardiovascular events (MACE) rate of 2%. These data are consistent with the benefit of a faster endothelialization, with less inflammation and vascular damage, and, from a mechanical point of view, greater ease of implantation, as the device has high flexibility and good transmission of applied force. It comes in a wide selection of sizes, from 2 to 4.5 mm diameter and 8 to 48 mm length.
REFERENCES
1. Sedaghat A, Sinning JM, Werner N et al. In vitro hydrodynamic and acute clinical performance of a novel self-expanding transcatheter heart valve in various surgical bioprostheses. EuroIntervention. 2018;13:2014-2017.
Keywords: Percutaneous coronary intervention, coronary stent.