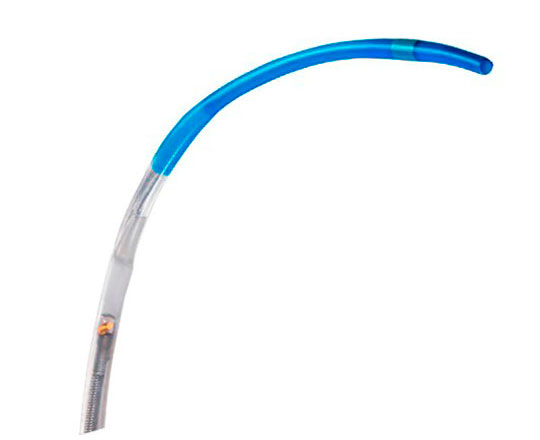 The Dragonfly Opstar catheter (Abbott, USA) is the new generation of catheter for use in coronary imaging with optical coherence tomography (OCT) that brings with it great technological innovation.
The new design of the Dragonfly Opstar catheter combines technological improvements in the tip profile and lens that help easily navigate tortuous anatomy and access distal lesions. This ensures brighter, better quality images to facilitate decision-making.
From a design perspective, the guide wire crossing profile has been reduced by 26% from the previous model and the guide wire port has been reinforced. With these features, the catheter resists 47% more proximal force without torsioning, providing navigability in tortuous anatomies that allows the area of interest to be reached.
There are also technological improvements in the lens, which provides better quality images that are 44% brighter. This makes it easier to detect the external elastic lamina (EEL), enhancing vessel morphology analysis in the vessel to be treated.
Another important point is that the new design of the lens provides better distal visibility, as the lens is positioned 4 mm closer to the tip. This provides an improved focus with the focal point optimized for greater detail in the area of interest.
This new OCT catheter is now available for OPTIS integrated systems, OPTIS mobile systems, ILUMIEN OPTIS systems, and ILUMIEN PCI optimization systems.
Keywords: Optical coherence tomography, coronary artery disease, percutaneous coronary intervention.