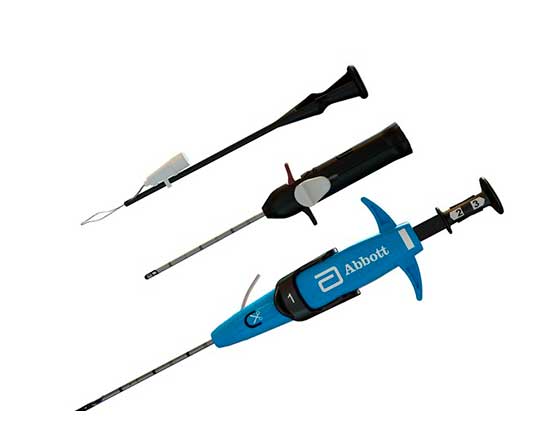 The Perclose ProStyle system (Abbott Vascular Inc, United States) is the newest generation of the Perclose vascular closure family, designed to percutaneously apply a suture to close the femoral artery or vein access site in patients undergoing diagnostic or interventional catheterization procedures. We could describe its function as a vascular closure system that, as well as closing the access site, repairs it.
Hemostasis is achieved by approximating the edges of the vessel wall with a biocompatible surgical suture to promote healing by primary intention,1 leaving smaller scars,2 allowing immediate re-access, and reducing the time to ambulation and hospital discharge.3
This new system comprises three elements that help the user to position, approximate, tie off and then cut the remaining ends of the suture:
A Perclose ProStyle device designed to ensure greater needle resistance and ease of use.
The device sheath contains a large, white, guide-wire exit port for better visibility and easier guide wire insertion. The proximal, metal part of the guide wire has reference markers that provide a visual estimation of the depth of the subcutaneous tract during suture deployment. The distal, hydrophilic-coated guide wire allows smoother advancement of the device and increases needle resistance, to minimize deviation in thickened tissues. The plunger has an improved spring to ensure better-controlled placement of the needles at the foot without a rebound affect.
A suture trimmer and a snare-knot pusher, designed to approximate the knot to the top part of the access site. The suture trimmer has a metallic, hydrophilic-coated sheath, depth reference markers that line up with those of the device, and a more rigid cutting lever to reduce the possibilities of accidental cutting. The snare-knot pusher has been included as an additional low-profile accessory to facilitate advancing the knot in cases of deeper access.
REFERENCES
1. FDA Databases. Perclose™ ProStyle™ SMCR System - Instructions for Use. Available at https://fda.report/GUDID/28717648235188. Accessed 10 Apr 2021.
2. Mercandetti, M. Wound Healing and Repair. Medscape. 02 Apr 2019. Available at: https://emedicine.medscape.com/article/1298129-overview. Accessed 10 Apr 2021.
3. Bhatt DL, Raymond RE, Feldman T, et al. Successful "pre-closure" of 7Fr and 8Fr femoral arteriotomies with a 6Fr suture-based device (the Multicenter Interventional Closer Registry). Am J Cardiol. 2002;89:777-779.
Keywords:
percutaneous vascular closure device
.